Ref:
Date:
Location:
Photographer:
[clikcontent type=paymentBuyLink replaceable=true]
Ref:
Date:
Location:
Photographer:
[clikcontent type=paymentBuyLink replaceable=true]
Small Worlds
Much of what I create draws on the small things that we often overlook, whether that be images of and inspired by water, or the new worlds that may be found through a macro lens. Even my larger montages draw heavily upon small details. A selection of my work will feature in a forthcoming group exhibition at the
Foxlowe Arts Centre in Leek
, aptly titled Small Worlds. The exhibition aims to delight, with a display of small work depicting small things – the mini-worlds we often overlook; the corners of the mundane that contain hidden treasures.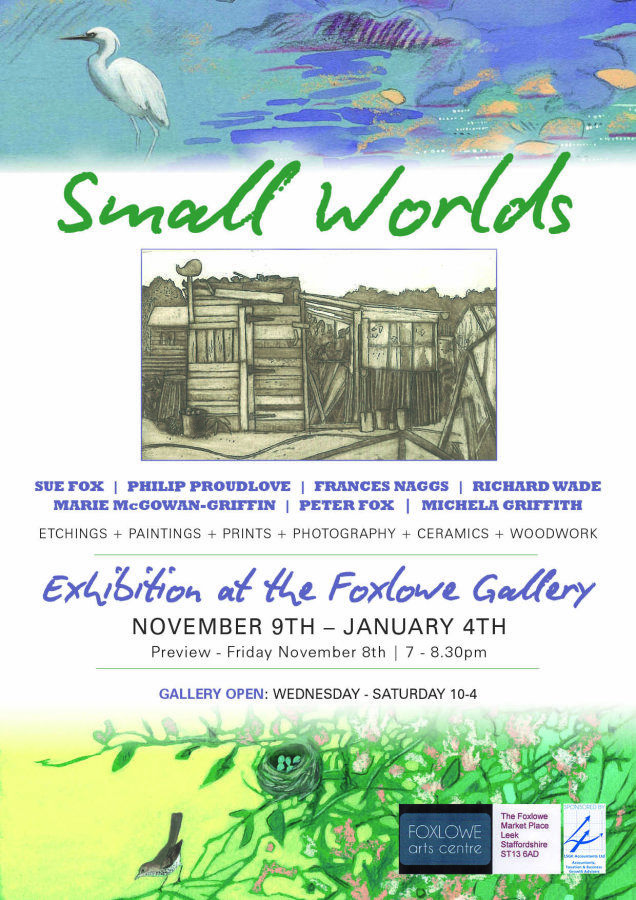 The work of 7 local artists is included, all professional and well-recognised in their field. Etchings by Richard Wade prove popular wherever he exhibits, with his unique view of everyday subjects rendered in the rich tones of traditional etching, a medium not frequently seen in modern galleries. There are exquisite raku-fired pots by Marie McGowan-Griffin, imaginative and high quality hardwood items of home décor by master craftsman Peter Fox (of Fox Country Furniture renown), and the stunningly poetic cameo landscapes of photographer Michela Griffith. Three painters complete the show, with works of very different character – Frances Naggs brings nature to life with her joyful vibrant canvases, while Philip Proudlove excels at painterly scenes alive with light and atmosphere. Sue Fox is exhibiting from her award-winning series of jewel-like birds in bright landscapes, both as original paintings and framed prints.
As a concession to the gift-buying season, work that is sold can be taken away throughout the exhibition.
Small Worlds
is at the The Foxlowe Arts Centre, Stockwell Street, Leek ST13 6AD from Saturday 9 November 2019 until Sunday 5 January 2020. There is a preview on Friday 8 November between 7.00-8.30pm. The Foxlowe Gallery is open Wednesday to Saturday, 10am-4pm, and the first Sunday of the month, 11am-4pm.
23/09/19